Nature Tourism in Bonggakaradeng District, South Sulawesi Province
---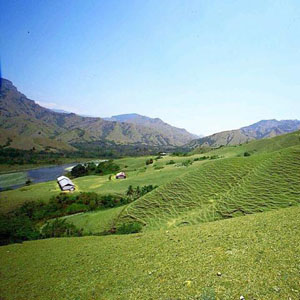 Tourists have many reasons to visit Bonggakaradeng District. Most of them love its serene nature, though. It is part of South Sulawesi Province and it belongs to West Tana Toraja Regency. The main attraction is the green and wondrous mountains. The best destination is the highland. It features beautiful landscape and comfortable atmosphere. From the top of the hill, tourists can enjoy breathtaking views of nature and comfortable nuance. This place is suitable for both relaxation and hiking. Not to mention it is perfect for photography.
The Nuance
As mentioned before, the primary feature in Binggakaradeng District is the formation of mountains. They come with different size and shape. Mostly, they are covered by green bushes and trees. At a particular moment, you are able to see clouds. Since it is a natural attraction, you won't find many people nearby. Thus, it is recommended to come to the hill with a tour guide. As an alternative, hiring a tour agent is a good idea. Not to mention it is a worthy expense.
Exploring Bonggakaradeng District
Each region in Tana Toraja Regency has a unique attraction. Bonggakaradeng District is not an exception. In this location, you can take advantage of its nature. You may expect a savanna and mountains there. The best time for sightseeing is in the morning. It is because the clouds are seen clearly at that time. Apart from the beautiful landscape, tourists can observe the way of living of the locals. Most of these people work as a farmer. No wonder, you may find several farms and animal husbandries in Bonggakaradeng.
The next thing to do is photography. Sightseeing can only give you an ephemeral experience. On the other hand, photography gives you an opportunity to capture beautiful objects in Bonggakaradeng District and keep them forever with you. In this case, make sure to carry a good camera. As an alternative, you can take advantage of a smartphone's camera. Either way, it may give you good pictures. You only need to find the best spots to take pictures. Here is an idea. Why don't you hire a tour guide?
Some locals say Bonggakaradeng is the representation of nature. Not to mention it is a little bit secluded. No wonder, it doesn't feature many facilities. The local government even promotes it as nature tourism. Hopefully, it can attract more foreigners to visit the region. Once travelers drop by in Bonggakaradeng, they can explore other tourist spots nearby. The accessibility is good in Tana Toraja Regency, after all. Different types of tourist spots are available and they are easy to reach.
Nearby Attractions
Serambu Waterfall
Olon Park
How to Get There
The main tourist destination in Bonggakaradeng District is definitely the hill. From Makassar City, the trip may take up to 7 hours and the distance is 300 km. The most common route to take is Poros Barru – Makassar Street. It is considered the fastest one, in fact. If you come from Jakarta, you must head to Makassar City first. In this case, your primary destination is Sultan Hasanuddin Airport.
Where to Stay
Sahid Hotel
Misiliana Hotel
Indra Toraja Hotel

Latest News
Bantimurung National Park is one of the tourist destinations that presents many types of natural objects. The nature tourism steep limestone hill valley with tropical vegetation, waterfalls, and cave; which are the habitat of various fauna species, including butterflies. This National Park features butterflies as its main attraction. Here, there are at least 20 types of protected butterflies from at least 250 species of butterflies that exist. However, not only butterflies, various types of interesting tourist activities can be done in this national park. Helena Sky BridgeThe Helena Sky Bridge…
---
Bantimurung National Park was established as a nature conservation area in 2004. The park with about 43,770 hectares width is located in Bantimurung District, Maros, South Sulawesi. There are natural destination of steep limestone hill valleys with tropical vegetation, waterfalls, and caves which the habitat of various fauna species, including butterflies. Alfred Russel Wallace dubbed Bantimurung as The Kingdom of Butterfly. He gave this nickname when he researched this location between 1856-1857. According to Wallace's research, for a year in that location there are at least 250 species of butterflies.…
---
Takapala Waterfall has 109 meters high with huge volume of water that pour out daily, and becomes bigger during rainy season. The outpouring of water that hit the big chunks of rocks in the bottom causing a roar and a splash of water that form a thin haze as far as 20 m. Not far from Takapala there are also other waterfall names Ketemu Jodoh Waterfall; the name of Ketemu Jodoh means meeting a soulmate. The location of the waterfall is only separated by a road that leading to the…
---
Selayar Island Selayar is an island that located in Selayar islands regency, South Sulawesi. Selayar Island is separated from the mainland of South Sulawesi with an area of ??approximately 2000 km2 that stretches from north to south between Sulawesi island and Takabonerate island. At Selayar Islands regency, there are 123 islands, and 62 islands of those are inhabited. The west coast and the northern part of the island is in the form of rocks and steep cliffs, while the east coast and most of the south coast is a form…
---