An Old Pallawa Village in Sesean District, South Sulawesi Province
---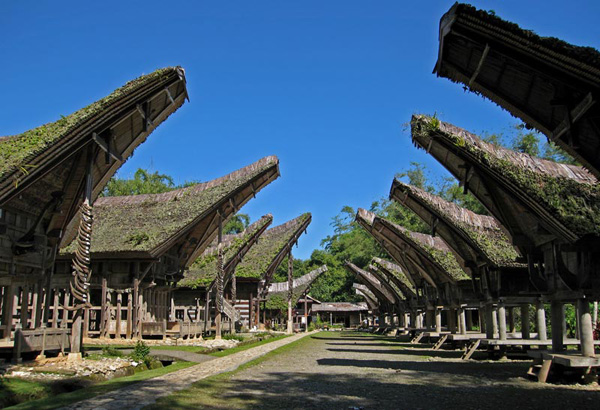 Pallawa Village is part of the history of South Sulawesi Province. The local legend has attracted visitors to come to this settlement. The village is also popular due to its Tongkonan (traditional house). Where is it? The location is in Sesean District. The distance is 12 km from Rantepao. Once you reach the location, you can see many traditional houses. In fact, the number is greater than that of the Kete Kesu's. Not to mention it is older. The thing is it doesn't as popular as Kete Kesu because of its poor location.
The Nuance
As mentioned earlier, Pallawa Village consists of many traditional houses (Tongkonan). They come in majestic and historical appearance. Some local kids are often seen on the path between those houses. In the back, there is a small forest. That means you may expect many trees, as well. Just like other villages in Tana Toraja, you can find uncommon burial sites near to the settlement. However, the distance is 1 km from the village. Thus, it requires a small trip to reach the location.
Exploring Pallawa Village
Just like other villages in Tana Toraja Regency, Pallawa represents how the local lives. It is a suitable vacation destination for those who love history and culture. It is because the village holds an interesting story. Some villagers may tell you about it, in fact. According to the history, there was a man named Tomadao coming from Sesean Mountain. He met a woman named Tallo Mangka Kalena. They decided to get married and lived in the east part of Pallawa. From their marriage, they got a son named Datu Muane. Later, Datu married Lai Rangri and created a new settlement called Pallawa.
Today, Pallawa Village has attracted many visitors. The settlement has a unique characteristic, which is the Tongkonan. There are 11 of them. Not to mention there are 15 big granaries. The locals call them "alang". In front of the houses, there are the horns of buffalos. In terms of shape, Tongkonan is similar to Padang's traditional house. Some people say these two cultures are related to each other. No one can confirm it, though.
Due to its unspoiled culture and beauty, Pallawa Village is worth a visit. A formation of Tongkonan, the history, and a local culture become the major attractions of the village. Also, you should try their foods. For example, there is Pantollo' Lendong. It is made of the meat of eel. Another famous food is Pa'piong. In fact, there are other options. What you need to do is to talk to the villagers and try their local foods.
Nearby Attractions
Na'Gandeng Museum
Sarambu Waterfall
Ke'te' Kesu
Ollon
How to Get There
A trip to Sesean District from Makassar City takes about 8 hours. The distance is 333 km. It is a long trip, indeed. Due to this reason, you must take advantage of a good transportation. Otherwise, it will be tiring and troublesome. Also, use the right route. It is Poros Barru – Makassar Street. If you are an outsider, the best transportation is an airplane. In this case, reach Hasanudding Airport first. Later, you may continue to reach Pallawa Village.
Where to Stay
Marante Toraja Hotel
Toraja Heritage Hotel
Madarana Hotel

Latest News
Bantimurung National Park is one of the tourist destinations that presents many types of natural objects. The nature tourism steep limestone hill valley with tropical vegetation, waterfalls, and cave; which are the habitat of various fauna species, including butterflies. This National Park features butterflies as its main attraction. Here, there are at least 20 types of protected butterflies from at least 250 species of butterflies that exist. However, not only butterflies, various types of interesting tourist activities can be done in this national park. Helena Sky BridgeThe Helena Sky Bridge…
---
Bantimurung National Park was established as a nature conservation area in 2004. The park with about 43,770 hectares width is located in Bantimurung District, Maros, South Sulawesi. There are natural destination of steep limestone hill valleys with tropical vegetation, waterfalls, and caves which the habitat of various fauna species, including butterflies. Alfred Russel Wallace dubbed Bantimurung as The Kingdom of Butterfly. He gave this nickname when he researched this location between 1856-1857. According to Wallace's research, for a year in that location there are at least 250 species of butterflies.…
---
Takapala Waterfall has 109 meters high with huge volume of water that pour out daily, and becomes bigger during rainy season. The outpouring of water that hit the big chunks of rocks in the bottom causing a roar and a splash of water that form a thin haze as far as 20 m. Not far from Takapala there are also other waterfall names Ketemu Jodoh Waterfall; the name of Ketemu Jodoh means meeting a soulmate. The location of the waterfall is only separated by a road that leading to the…
---
Selayar Island Selayar is an island that located in Selayar islands regency, South Sulawesi. Selayar Island is separated from the mainland of South Sulawesi with an area of ??approximately 2000 km2 that stretches from north to south between Sulawesi island and Takabonerate island. At Selayar Islands regency, there are 123 islands, and 62 islands of those are inhabited. The west coast and the northern part of the island is in the form of rocks and steep cliffs, while the east coast and most of the south coast is a form…
---