Tarra Tree and Bori Parinding Site in Sangalla District, South Sulawesi
---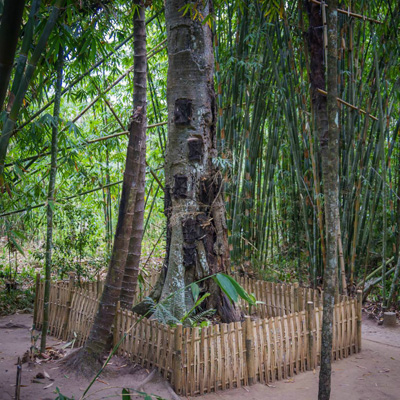 Tana Toraja Regency is part of South Sulawesi. It is famous for numerous creepy traditions and beautiful landmarks. In Sangalla District, you can find a sacred tree called Tarra. The location is in Sangalla District. To be exact, it is situated in Kambira Village. The tree has several holes in the trunk. The local people use those holes to bury their dead child. The thing is only a pure baby is allowed to be buried there. For tourists, the tree becomes a significant attraction. If you look for an alternative, there is Bori Parinding. It is a site to witness menhir stones. These stones have been there for hundreds of years, in fact.
The Nuance
Both Tarra Tree and Bori Parinding Site are worth a visit. Many visitors are attracted to the uniqueness and sacredness of those tourist spots. In terms of size, the tree has a big trunk. There are several small storages on it. As mentioned before, these holes contain dead kids. The tree emits a creepy aura, as well. Thus, not all tourists would like to spend much time there. On the other hand, Bori Parinding Site offers unique landscape and features.  Many menhir stones are scattered in this location.
Exploring Tarra Tree
The tree is considered big. It has a diameter of 1 meter. The locals make a hole in the trunk to bury their dead baby. According to the locals, the age of the tree is more than 300 years old. However, not all dead babies are allowed to be buried in this location. It is because the tree is quite sacred. That means only pure and sacred bodies are buried there. What is the requirement, actually? Those who don't grow any milk teeth are considered sacred babies.
The locals have many reasons why they bury their kids there. For example, the tree produces sap. It is considered a replacement for mother's breast milk. That means the kids are considered reborn if they are buried there. The question is whether there is more than one Tarra Tree or not. Yes, it is. However, not all trees can be used as a burial site. The tree must have a sufficient diameter. It is a no brainer. A big trunk can store the dead body easily.
Before the burial process, the family should perform a ritual. The name is Rambu Solo. This helps the kids to reach the heaven in an efficient manner. Not to mention the family must sacrifice an animal during the procession. Usually, it is a pig. This whole ceremony is considered a traditional belief. It belongs to animism, actually. The locals call it Todolo.
Nearby Attractions
Ollon
Serambu Waterfall
Kete Kesu
How to Get There
First things come first. In order to see Tarra Tree, you must come to South Sulawesi. From Jakarta, takes a plane to Hasanuddin International Airport. It is situated in Makassar City. Once you get there, reach Sangalla District by a local transportation service. Next, you can simply head to Kambira Village. The whole trip takes approximately 7-8 hours. The distance is 311 km, after all. It is a long and tiring trip, so you need to prepare everything.
Where to Stay
Indra Toraja Hotel
Sahid Hotel
Misiliana Hotel

Latest News
Bantimurung National Park is one of the tourist destinations that presents many types of natural objects. The nature tourism steep limestone hill valley with tropical vegetation, waterfalls, and cave; which are the habitat of various fauna species, including butterflies. This National Park features butterflies as its main attraction. Here, there are at least 20 types of protected butterflies from at least 250 species of butterflies that exist. However, not only butterflies, various types of interesting tourist activities can be done in this national park. Helena Sky BridgeThe Helena Sky Bridge…
---
Bantimurung National Park was established as a nature conservation area in 2004. The park with about 43,770 hectares width is located in Bantimurung District, Maros, South Sulawesi. There are natural destination of steep limestone hill valleys with tropical vegetation, waterfalls, and caves which the habitat of various fauna species, including butterflies. Alfred Russel Wallace dubbed Bantimurung as The Kingdom of Butterfly. He gave this nickname when he researched this location between 1856-1857. According to Wallace's research, for a year in that location there are at least 250 species of butterflies.…
---
Takapala Waterfall has 109 meters high with huge volume of water that pour out daily, and becomes bigger during rainy season. The outpouring of water that hit the big chunks of rocks in the bottom causing a roar and a splash of water that form a thin haze as far as 20 m. Not far from Takapala there are also other waterfall names Ketemu Jodoh Waterfall; the name of Ketemu Jodoh means meeting a soulmate. The location of the waterfall is only separated by a road that leading to the…
---
Selayar Island Selayar is an island that located in Selayar islands regency, South Sulawesi. Selayar Island is separated from the mainland of South Sulawesi with an area of ??approximately 2000 km2 that stretches from north to south between Sulawesi island and Takabonerate island. At Selayar Islands regency, there are 123 islands, and 62 islands of those are inhabited. The west coast and the northern part of the island is in the form of rocks and steep cliffs, while the east coast and most of the south coast is a form…
---