Marante Village in Tana Toraja Regency, South Sulawesi
---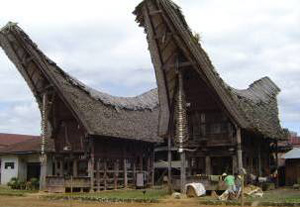 Lots of travelers have been impressed by South Sulawesi Province. Most of them are looking for unique culture, especially in Tana Toraja Regency. There is a recommended village to explore the local traditions. The name is Marante. This settlement is famous for numerous attractions including the limestone hill, giant barns, and Tongkonan (traditional house). The hill of limestone consists of Erong (a traditional tombstone). Why is the name? Marante was a leader of the village. He often led traditional ceremonies including Rambu Solo or a traditional burial procession.
The Nuance
Once you get to Marante Village, you can feel the mystical aura. No wonder, many creepy tombstones are located near to the village. Despite this fact, the village is also surrounded by bushes and trees. That means visitors can feel refreshing atmosphere while exploring the settlement. On top of that, the villagers are approachable. For the best communication, it is better to hire a local guide. He may help you to talk to the villagers comfortably. Sometimes, the locals invite tourists to eat together in their house. Don't miss this opportunity.
Exploring Marante Village
The first thing to do in Marante Village is engaging with the villagers. People in Marante are friendly. However, they retain their traditional culture well. It is better not to talk about technology and modernization to them. Instead, you can learn their traditional culture. For the best communication, you should come with a local tour guide. As an alternative, you learn a bit of the Indonesian Language. It helps you communicate well with the villagers. You can even learn their culture and way of living.
The next thing to do is to witness Tongkonan. As mentioned before, it is the traditional house of Tana Toraja. Due to its unique shape and size, it has attracted more visitors over time. People come to this location either to take pictures or entering the house. One thing, it requires permission from the owner of the house. For those who love drawing, these houses can be a beautiful object or model for drawing. Overall, it is worth a visit.
What's next? It is the Tau-Tau. Simply put, these are traditional statues. The shape is creepy as it also emits a spiritual aura. Next, there is Erong. It is actually an ancient tombstone. Another interesting thing is Marante Village is Patane. The function is similar to Erong, but it is made of wood. On top of that, there are many types of nature scenery. These include mountains, trees, hills, and much more. Those things are definitely beautiful.
Nearby Attractions
Kete Kesu
Serambu Waterfall
How to Get There
A trip to Tana Toraja Regency takes much time. From Makassar, it takes about 8 hours and the distance is 328 km. It will take longer if you come from Jakarta. In this case, you must head to Sultan Hasanuddin Airport first. From there, take a taxi to Tana Toraja and Marante Village. For a simpler and faster trip, you can hire a tour agent. They may take care of everything for you.
Where to Stay
Luta Resort Hotel
Pison Hotel
Torsina Hotel