Tilangnga Natural Pond in North Makale District, South Sulawesi
---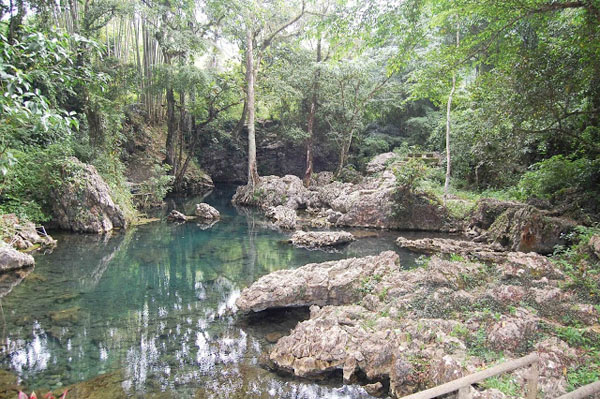 Nature tourism always becomes everyone's favorite. One of the best locations for relaxation in South Sulawesi Province is Tilangnga Natural Pond. The location is in North Makale District. To be exact, it is located in Sarira Village. The pond offers fresh and clear water. Actually, the water is shallow so you can get in safely. It is also considered as the home of Anguilla Sp. The locals call it "Belut Purba". Also, people of Toraja call it Masapi. In order to reach this pond, you need to pay the entry fee. Have no worries. The price is affordable.
The Nuance
In terms of nuance, the natural pond is mesmerizing. It feels like in a sacred place. The shady plants and trees make it quite refreshing. The stones are scattered all over the pond and they have a unique shape. Next, it is the color of the water. This natural pond is considered clear. Somehow, it reflects green and shiny color. As mentioned before, the water is shallow. It is even safe for kids to play in it. If you are lucky, you are able to witness the eels.
Exploring Tilangnga Natural Pond
Even though it is not an official tourist spot, Tilangnga opens for public. That means visitors are allowed to get into the water and take a bath. As mentioned earlier, this pond is the home of local eels (Masapi). If you get lucky, they will approach you. Some locals may recommend you to bring a boiled egg. Somehow, it is able to lure the eel out. These eels live in the cracks of the rocks. They aren't likely to come out easily, though.
Apart from bathing, there are other things to do in such tourist spot. For instance, you can learn the history of Tilangnga Natural Pond. Many facts are related to Tilangnga's Masapi, actually. The locals say you will have a fortune by encountering such eel. Another interesting story is related to the forbidden activity in the pond. It is said visitors are not allowed to fish the eel. Otherwise, it may give a severe unfortunate event and death. No one can confirm these myths, but you should never ignore them.
What about the rules in taking a bath in Tilangnga Pond? Well, you should never use either a soap or shampoo. Tourists should keep the environment clean. That means you are not allowed to litter, as well. Both the pond and Masapi are considered sacred. You must never ruin their purity by acting carelessly in the pond. That's all.
Nearby Attractions
Na'Gandeng Museum
Sarambu Waterfall
Ke'te' Kesu
Ollon
Tongkonan Pallawa
How to Get There
The first destination is South Sulawesi Province. If you come from Jakarta, you should use an airplane and head to Sultan Hasanuddin International Airport. It is located in Makassar. Once you get there, take a local vehicle to North Makale District and head to Sarira Village. A trip from Makassar to Tilangnga Natural Pond takes 7-8 hours and the distance is 317 km. The best route to use is Poros Barru – Makassar Street.
Where to Stay
Masiliana Hotel
Torsina Hotel
Pison Hotel

Latest News
Bantimurung National Park is one of the tourist destinations that presents many types of natural objects. The nature tourism steep limestone hill valley with tropical vegetation, waterfalls, and cave; which are the habitat of various fauna species, including butterflies. This National Park features butterflies as its main attraction. Here, there are at least 20 types of protected butterflies from at least 250 species of butterflies that exist. However, not only butterflies, various types of interesting tourist activities can be done in this national park. Helena Sky BridgeThe Helena Sky Bridge…
---
Bantimurung National Park was established as a nature conservation area in 2004. The park with about 43,770 hectares width is located in Bantimurung District, Maros, South Sulawesi. There are natural destination of steep limestone hill valleys with tropical vegetation, waterfalls, and caves which the habitat of various fauna species, including butterflies. Alfred Russel Wallace dubbed Bantimurung as The Kingdom of Butterfly. He gave this nickname when he researched this location between 1856-1857. According to Wallace's research, for a year in that location there are at least 250 species of butterflies.…
---
Takapala Waterfall has 109 meters high with huge volume of water that pour out daily, and becomes bigger during rainy season. The outpouring of water that hit the big chunks of rocks in the bottom causing a roar and a splash of water that form a thin haze as far as 20 m. Not far from Takapala there are also other waterfall names Ketemu Jodoh Waterfall; the name of Ketemu Jodoh means meeting a soulmate. The location of the waterfall is only separated by a road that leading to the…
---
Selayar Island Selayar is an island that located in Selayar islands regency, South Sulawesi. Selayar Island is separated from the mainland of South Sulawesi with an area of ??approximately 2000 km2 that stretches from north to south between Sulawesi island and Takabonerate island. At Selayar Islands regency, there are 123 islands, and 62 islands of those are inhabited. The west coast and the northern part of the island is in the form of rocks and steep cliffs, while the east coast and most of the south coast is a form…
---