Tumbang Datu-Bebo Village in North Sangalla District, South Sulawesi
---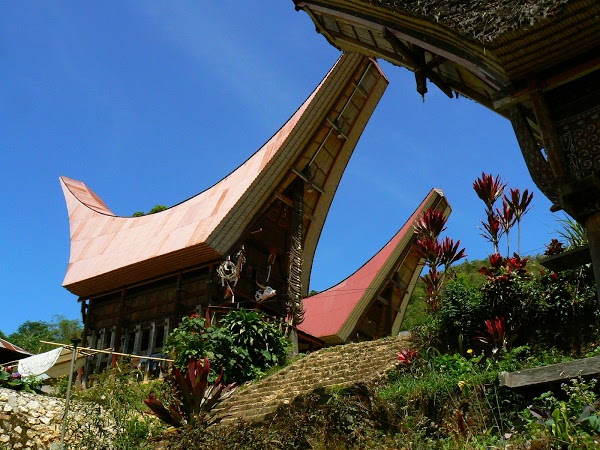 In Tana Toraja Regency, you can find many traditional villages. One of them is located in North Sangalla District. The name is Tumbang Datu-Bebo Vilage. Tourists often come to this settlement to witness Tongkonan, a fountain, traditional ceremonies, ancient tombstones, and much more. The villagers retain their culture and aren't likely to get affected by modernization. Another best feature is Basse Kasalle. It is a giant tree located on the hill. It becomes a symbol of agreement between several tribes nearby.
The Nuance
Tongkonan or traditional houses of Tana Toraja become a common sight in Tumbang Datu-Bebo Village. Their shape is unique and their size is enormous. These houses are located in a grassy area. The formation looks stunning, as well. Sometimes, you can see many buffalos near to these houses. It is because the villagers consider this animal as a valuable belonging. They also use them as part of traditional ceremonies. In the back, there are plethora trees. Thus, the atmosphere is relaxing and shady.
Exploring Tumbang Datu-Bebo Village
More than a hundred of years ago, there was a big war in Tana Toraja. Many new villages were born from it. One of them is Tumbang Datu-Bebo. This settlement is famous for its culture. The location is in North Sangalla, so it is quite reachable. The best feature is Tongkonan. The villagers use such traditional house to perform ceremonies and burial rituals. The village is also near to interesting tourist spots such as a fountain, forts, and other historical places.
With all those features, Datu-Bebo Village becomes a valuable village to visit. Aside from those interesting attractions, the village is near to a hill. Thus, you can take an opportunity to explore and climb the hill with your friends. Once you reach the top of the hill, you can see sandalwood. This tree becomes a symbol of peace amongst the tribes. It also becomes a landmark to commemorate Basse Kasalle (a pact of tribes). Somehow, it is also suitable for a background of photography.
As for the tips, you should have prepared everything prior to visiting Datu-Bebo Village. For example, you must carry a map. It is because beginners often get lost in this location. If necessary, you can hire a local guide. He may help you get around the village and visit nearby attractions. The hill is a must, for sure. Still, many other tourist spots are also located near to this settlement. With proper information and money, you can explore them all. However, make sure to come with a good vehicle!
Nearby Attractions
Na'Gandeng Museum
Sarambu Waterfall
Ke'te' Kesu
Ollon
How to Get There
From Jakarta, there are many checkpoints to visit. First, it is Makassar City. It is the capital of South Sulawesi Province after all. The fastest way to reach it is by airplane. In this case, your destination is Sultan Hasanuddin International Airport. Once you reach Makassar, it is time to head to North Sangalla District. The distance is 311 km, so it takes about 7-8 hours. You can use Poros Barru – Makassar Street, actually.
Where to Stay
Indra Toraja Hotel
Torsina Hotel
Misiliana Hotel

Latest News
Bantimurung National Park is one of the tourist destinations that presents many types of natural objects. The nature tourism steep limestone hill valley with tropical vegetation, waterfalls, and cave; which are the habitat of various fauna species, including butterflies. This National Park features butterflies as its main attraction. Here, there are at least 20 types of protected butterflies from at least 250 species of butterflies that exist. However, not only butterflies, various types of interesting tourist activities can be done in this national park. Helena Sky BridgeThe Helena Sky Bridge…
---
Bantimurung National Park was established as a nature conservation area in 2004. The park with about 43,770 hectares width is located in Bantimurung District, Maros, South Sulawesi. There are natural destination of steep limestone hill valleys with tropical vegetation, waterfalls, and caves which the habitat of various fauna species, including butterflies. Alfred Russel Wallace dubbed Bantimurung as The Kingdom of Butterfly. He gave this nickname when he researched this location between 1856-1857. According to Wallace's research, for a year in that location there are at least 250 species of butterflies.…
---
Takapala Waterfall has 109 meters high with huge volume of water that pour out daily, and becomes bigger during rainy season. The outpouring of water that hit the big chunks of rocks in the bottom causing a roar and a splash of water that form a thin haze as far as 20 m. Not far from Takapala there are also other waterfall names Ketemu Jodoh Waterfall; the name of Ketemu Jodoh means meeting a soulmate. The location of the waterfall is only separated by a road that leading to the…
---
Selayar Island Selayar is an island that located in Selayar islands regency, South Sulawesi. Selayar Island is separated from the mainland of South Sulawesi with an area of ??approximately 2000 km2 that stretches from north to south between Sulawesi island and Takabonerate island. At Selayar Islands regency, there are 123 islands, and 62 islands of those are inhabited. The west coast and the northern part of the island is in the form of rocks and steep cliffs, while the east coast and most of the south coast is a form…
---