Visiting Ne'Gandeng Museum in Tana Toraja Regency, South Sulawesi
---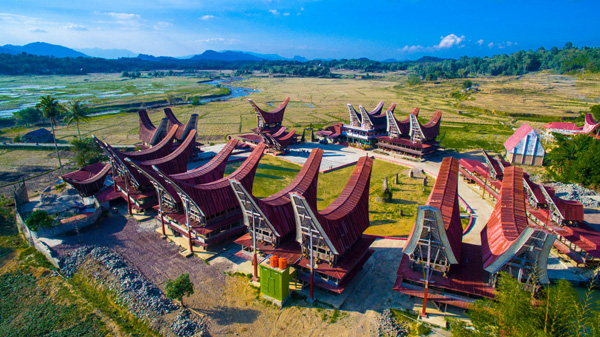 A vacation in Tana Toraja Regency is not all about creepy burial sites. It is because you can also enjoy numerous traditions and culture. One of the best vacation destinations will be Ne'Gandeng Museum. It is the best spot to witness and learn the local culture. The museum is located in Pelangi Village and it belongs to Sadan Balusu District. For families, this tourist spot also becomes a great location to introduce Toraja's cultural heritages. Overall, it is going to be a worthy vacation for everyone.
The Nuance
Ne'Gandeng Museum consists of several buildings. Most of them apply Tongkonan's architecture, actually. Next, there is the garden. It is a suitable location for relaxing. In the back, you can see a vast field. Not to mention there are many trees scattered near to this complex of a museum. In terms of facilities, you can't find many of them. Due to this reason, you should have prepared snacks and drinks in Makassar City. This way, you can enjoy them either before or after exploring the museum.
Exploring Ne'Gandeng Museum
The first thing to know about the museum is the name. The name derived from a respected leader in Tana Toraja. However, this man died in 1994. It was built after the death of Na'Gandeng. Today, the museum becomes a public's tourist spot and it is managed by a local foundation. Not only it becomes a tourist lure, but it also becomes a tribute for such famous person. For those who are visiting Tana Toraja Regency, it is recommended to drop by in the museum.
Near to Na'Gandeng Museum, you can find Tongkonan or traditional houses of Toraja. For tourists, it is possible to rest and stay in those houses. Still, you should get permission from the villagers. Make sure not to litter, though. It is because the locals retain their cultural heritage. At least, you need to respect their way of living. Once you get a room for resting, it is time to explore the museum. Any tourists should fill the guestbook first prior to entering the museum. Have no worries. The keeper may help you with it.
There is an entry fee, but it is affordable. Not many items can be seen inside. Still, you can feel the local tradition of Tana Toraja. Apart from that, the museum is located near to nature attractions. Several farms and trees surround this location. Somehow, it gives a comfortable feeling to the guests. That means this splendid atmosphere becomes an interesting feature of the museum.
Nearby Attractions
Kete Kesu 
Ollon
Serambu Waterfall
How to Get There
The easiest way to reach the museum is from Makassar City. In this case, your destination is Tana Toraja Regency. The distance is 315 km and it takes 7 hours and 30 minutes. Once you reach Tana Toraja, you should continue your trip to Sadan Bulusu District. From there, head to Pelangi Village. This whole trip takes both time and energy. However, it is worth an effort. The museum holds numerous historical values, after all.
Where to Stay
Misilaiana Hotel
Torsina Hotel
Indra Toraja Hotel