Rante Karrasik in Rantepao City, South Sulawesi Province
---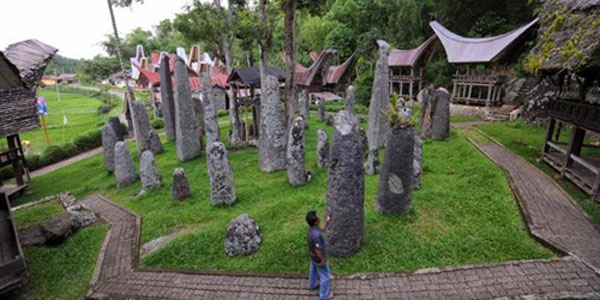 Rantepao City is part of South Sulawesi. It also becomes tourists' vacation destination recently. Thanks to Rante Kerrasik. This beautiful tourist spot is located near to the main road of Makale-Rantepao. The locals take advantage of this location to perform a traditional burial ceremony. Usually, they are the noblemen of Potoksia Buntu Pune. Not to mention it holds a historical value related to Rambu Solo ceremony. Apart from these values, you are able to enjoy the serene atmosphere in Rante Kerrasik. Overall, it is a recommended vacation destination in Rantepao.
The Nuance
A green and shady environment gives a comfortable sensation to tourists. Rante Kerrasik is covered by natural attractions and beautiful ornaments. The main feature is definitely a complex of Tongkonan. These houses share the same characteristics to other traditional houses of Tana Toraja. Near to the complex, there are several vertical stones. The locals consider them sacred and magical. The next features are the trees. They appear high and majestic. All of these features combine into a perfect nuance. No wonder, it becomes a good place for relaxation as well.
Exploring Rante Karrasik
The best feature in Rante Karrasik is the formation of menhir stones. There are 12 of them and they come in a good condition. The highest one is about 7.5 meters. For tourists, it seems uninteresting but these stones represent the number of Rambu Solo ceremony conducted in this area. If you get lucky, you can witness such tradition. The best thing is the villagers may welcome you in a friendly manner. For the best experience, you should carry a camera.
Some local kids are seen in Rante Karrasik. They walk and play around in the field. Sometimes, they also come to the farms and accompany their fathers at noon. This scenery is definitely unique and interesting. Tourists can even join those kids and get around the village wholeheartedly. In this case, you should have learned some Indonesian Language. This helps you to interact with those villagers well. There is even the chance to join a feast with them. The local foods are definitely tasty and healthy.
Once you get around Rante Karrasik, you may continue your trip to other tourist spots nearby. Thus, a comfortable rented car becomes a primary necessity. Here is an idea. You need to hire a local driver. He has both the knowledge and experience regarding nearby tourist locations. What you need to do is to sit and relax in the car. The thing is you need to spend some money to pay the driver.
Nearby Attractions
Serambu Waterfall
Ollon Park
Kete Kesu
How to Get There
Rantepao City is reachable from different locations, especially Makassar City. For outsiders, an airplane is the best type of transportation. In this case, you should fly to Sultan Hasanuddin International Airport. From there, take a trip to Rantepao using any available transportation service. It takes about 7 hours and 41 minutes and the distance is 324 km. The most recommended route will be Poros Barru-Makassar Street.
Where to Stay
Luta Resort Hotel
Puri Artha Hotel
Pantan Toraja Hotel